Vapers are Smart.
Here is our story.
Smart® Electronic cigarettes is a European brand that has been producing vaping devices and eliquids since 2014. The brand is renowned for its innovative designs, durability, and quality. In an industry which is highly regulated, all wholesalers and retailers enjoy piece of mind, as all Smart® vape products are fully compliant with the latest European Legislation and registered with the European Commission under their respective TPD-EID's. A guarantee for which we are proud of.
Smart® Electronic Cigarettes can be purchased from leading retail outlets or online by clicking here.
the ultimate
disposable vape
Smart® 800 is the ultimate disposable vaping device and the real hassle-free alternative to tobacco smoking. It is a pen style cylindrical shaped vape which is so light and sleek that you must hold it to believe it. The innovative technology used in the Smart® 800 generates up to 800 puffs, equivalent to around 53 cigarettes, the highest capacity that may be marketed in the European Union.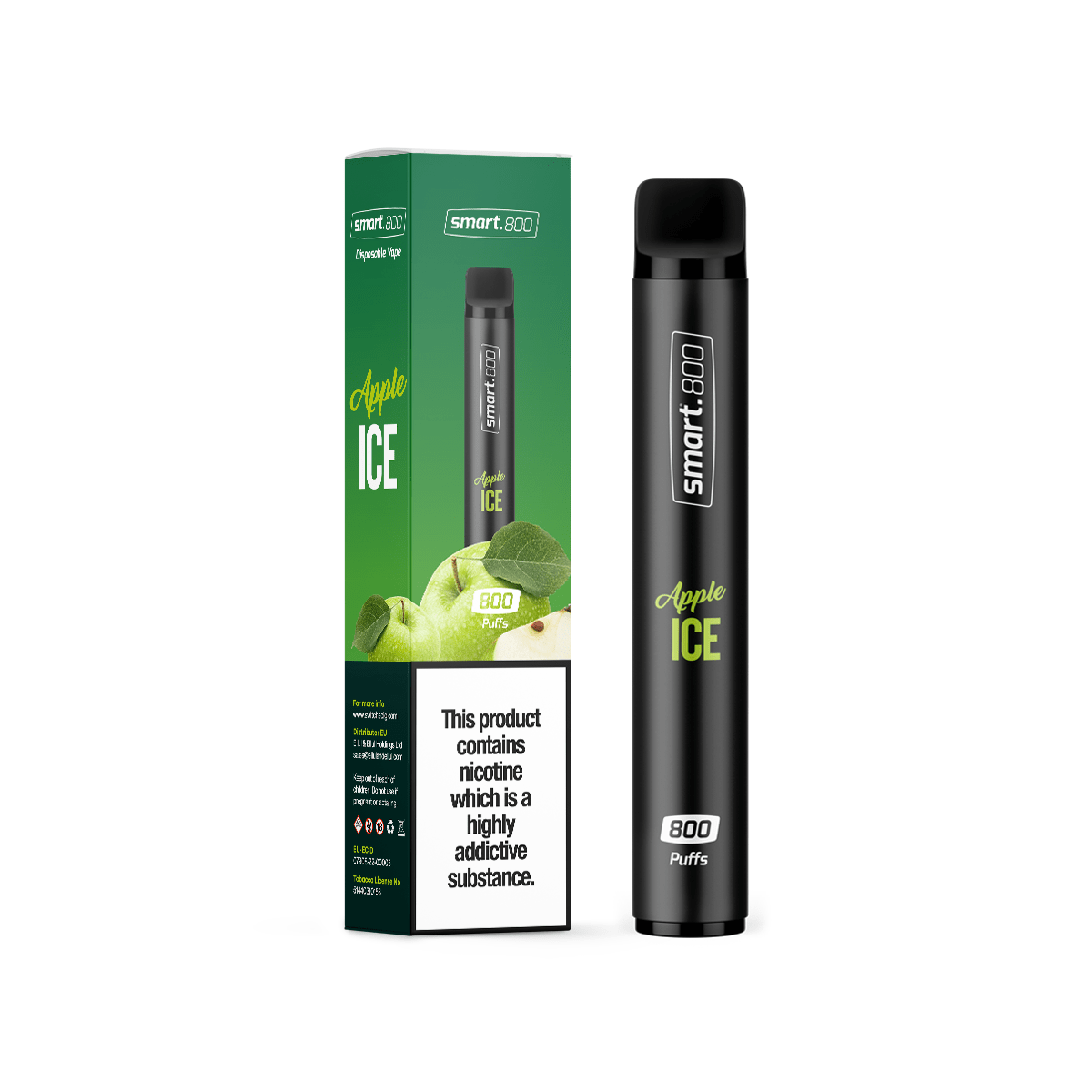 Apple Ice
Prepare yourself for a crisp and divine sweet blend of flavoursome fresh apples.
Cola Ice
A familiar beverage flavour, enjoy the refreshing taste of sweet cola. Perfect for an all day vaping experience.
Mango Ice
Enjoy the mellow sweetness of ripe mango fruit with an ice cool finish for a truly enjoyable, exotic-in- spired experience.
Watermelon
Deliciously light and sweet, taste fresh watermelon flavours combined with an ice undertone to create a refreshingly cool vaping experience.
Big Bull
Enjoy the intense sweet-tart flavour of a well-blended energy drink giving you a refreshing finish.
Grape Ice
Deliciously sweet and fruity fresh, taste an array of grape flavours. Offers a slightly tangy edge finished with a cool ice blast.
Pineapple Ice
The sweet and juicy pineapple flavor is perfectly balanced with a subtle hint of tartness, creating a refreshing and satisfying vape.
Blueberry Ice
Bursting with fresh blueberries for a delicate sweetness, highlighted by a tangy cool ice edge.
Ice Cream
A heavenly mix of vanilla and strawberry ice cream flavours that will surely leave you mouthwatering for more.
Strawberry Ice
Enjoy a luscious, sweet strawberry flavour delivering a delightfully refreshing vaping experience highlighted with an icy sensation.
Looking for Smart® eLiquids?
Ellul & Ellul Holdings Ltd.
Copyright  2023©